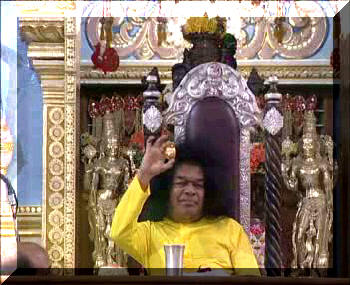 Satya Saibaba produces `atma lingas'
The Hindu
By Our Staff Reporter
ANANTAPUR, FEB. 18. `Maha Shivaratri' was celebrated with religious fervour at all important Shiva temples in the district and at Puttaparthi. Sri Satya Saibaba produced three `atma lingas' as part of `lingodbhava' this evening. Devotees from across the country gathered in large numbers at Puttaparthi to witness the lingodbhava programme. The rush was heavy as media carried the report that Satya Saibaba is likely to produce the `atma lingas' on the day of Maha Shivaratri.
Those who were present on the occasion were the Karnataka Governor, T.V. Chaturvedi, the Chief Minister, S.M. Krishna, the Union Minister of State for Home, I.D. Swamy, the former Chief Minister of Maharashtra, Vilasrao Deshmukh, the Sri Lankan MP, Bandarunayake, the District Collector, Y.V. Anuradha, the Superintendent of Police, Anil Kumar, and other officials.
Sri Satya Saibaba produced one `atma linga' at 5.15 p.m. and two more at 6.15 p.m. amidst the packed Sai Kulwanth Hall in Prashanti Nilayam. The atma lingas came out of Sri Saibaba's mouth.
A large congregation of devotees from the district and the neighbouring Karnataka gathered at Hemavati and Lepakshi.
Lingodbhavam' at Puttaparthi
The Deccan Herald

Bhagawan Satya Sai Baba performed the annual miracle of Lingodbhavam--pulling out a golden Linga from his mouth--this year too

By SRIKANTH SRINIVASA
DH News Service, PUTTAPARTHI

Sri Satya Sai Baba performed the 'Lingodbhavam' miracle thrice at about 6 pm on Wednesday evening . The spectacle was telecast live on the spiritual television channel Sanskaar TV. 'Lingodbhavam' is an annual miracle performed by Sri Satya Sai Baba to mark the festive occasion of Mahashivaratri. This evening, Sai Baba brought out the Linga from his mouth after consuming a lot of water. He left the dais and performed the miracle twice again, but away from the glare of television cameras.

Incidentally, mediapersons were denied entry to witness the spectacle. When this reporter and the photographer sought entry into Prashanti Nilayam, (the ashram of Sri Satya Sai Baba) early this morning, security personnel refused entry and a senior security personnel curtly said, "The ashram is not a public place. No one is admitted into the ashram without permission. This includes even the media. No cameras and bags are allowed inside. Pictures of the Lingodbhavam will be provided by the ashram authorities."

Despite a formal request sent to the ashram secretary by fax a day early, the ashram authorities did not permit the media team to enter the premises. Efforts to meet the secretary of the ashram (Mr Chakravarthy) proved futile. Though he (Mr Chakravarthy) was very much present in his office, he refused to meet the reporters.

Last year, Sri Satya Sai Baba had brought out a golden Linga from his mouth measuring about three inches in length by waving his hand in full view of his devotees. The crowd was surprised to witness the second Linga from his mouth barely three minutes after producing the first one.

It is believed that the Linga is a symbol, a sign and an illustration of the endless and the limitless. Sai Baba's devotees have been imploring him not to suffer the ordeal of bringing out the Linga every year at the cost of the god man's health.
Governor T N Chaturvedi and Chief Minister S M Krishna were among the VIPs who visited the ashram for Sri Satya Sai Baba's darshan.

Long queues of devotees were seen since morning with men and women waiting for their turn to have a darshan of their Bhagwan.
Posted on 18th February, 2004 (Evening Darshan)
Sai Ram

Baba manifested 3 lingams tonight before 6:30.

The first one came as he was giving a discourse. It came as liquid gold which took a few moments to harden. It is for the college boys and will be in their lounge. It represents how special they are.

It also represents the start of a new era.

Baba then tried coughing up more but couldn't. He got pale, weak and sickly looking. He couldn't get up. A chair with wheel was brought over and several men helped him to the chair. He was wheeled into the the interview room where 2 more lingams were manifested.
Note by webmaster: Others who were present described the incident as "Sai Baba collapsed and had to be carried out in a very bad state"

A short time later, Baba came walking out looking young and healthy. "Miracle! Miracle!"

He announced that had gone out of his body and when he returned his body was healed. There is nothing wrong with his body.

His body is only here to benefit humanity. He will continue to dedicate his life for that purpose.

Thursday morning he will WALK to darshan. He is completely healed.

He said that everyone here has had their past karma removed.

The energy here was tremendous during this period as it is now.

It was an incredible experience to be present while all this was happening.
http://aumsairam108.tripod.com/pnnews/pnews-3.htm
However take a look at this video
http://www.kingdomofsai.org/2004/FILES/VIDEO/linghodhbhavam2004.mpg
Since when does "liquid gold" harden in just a few moments to a perfectly-formed egg ??
I vividly recall reading a passage from SB himself that was quoted in the book 'BSSSB: A life of God as Man' by M.N. Rao. In that quote, SB himself said something to the effect that the lingam is a soft pliable substance in his stomach and remains in that state while travelling up his aesophagus. It is only when it reaches his throat that it starts to harden which is why he is always on the point of choking. The lingam then shoots out of his mouth, perfectly formed within his throat.
Thanks to Sanjay Dadlani
A question remains: Who saw Sathya Sai Baba produce the other 2 Linghams besides Anil Kumar.